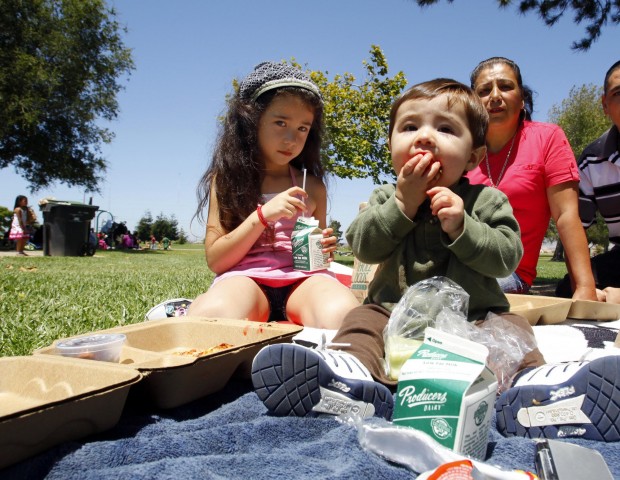 Alondra Ward, 5, and her baby brother Eddy Ward eat their lunch with their family Tuesday at Grogan Park in Santa Maria during the Foodbank of Santa Barbara County's Picnic in the Park event.
August 08, 2012 12:20 am  •  By Gina Potthoff/Staff Writer/[email protected]
Tummies grumbled and eyes wandered to the parking lot as impromptu bouts of "Heads, Shoulders, Knees and Toes" and "Row, Row, Row Your Boat" broke out at Grogan Park in Santa Maria on Tuesday afternoon.
A Spanish rendition of "Itsy Bitsy Spider" also could be heard as volunteers from the Seventh-day Adventist Church in Santa Maria waylaid about 150 children gathered for a free bite to eat.
The healthy, typically punctual meal was courtesy of the Foodbank of Santa Barbara County's Picnic in the Park program, which aims to feed low-income children and educate families, kids and the public about healthy eating and staying active.
Tuesday's menu included sliced pears, celery sticks, low-fat ranch dipping sauce, milk, trail mix and whole wheat pizza from Dominos, which was a tad late to arrive.
"Maybe if we sing really loud, the pizza will come faster," a volunteer told the children.
A short time later, pizzas arrived and groups of mostly elementary-aged students lounged on the grass to enjoy lunch in the final week of the program.
A part of the USDA Summer Food Service Program, Picnic in the Park provides 35,000 free nutritious meals during the summer.
Seven hundred meals a day are served in Santa Barbara County, with 550 to 600 of them in North County alone, said Judith Monte, Foodbank development manager of North County.
She said Picnic in the Park bridges the summer hunger gap, since 85 percent to 90 percent of students in Santa Maria's public elementary schools receive free or reduced lunches during the school year.
"These kids often eat breakfast and lunch at school," Monte said Tuesday. "The idea is to get it within walking distance. The needs don't take a break over the summer."
The Foodbank program, which is in its second year, has 15 sites that distribute meals five days a week for 10 weeks during the summer.
Monte guessed this year's program is serving 100 to 150 more North County residents than last year.
"Not just eating nutritiously, but being active," Monte said.
Maira Felix of Santa Maria waited in line with her 6-year-old daughter, Alondra Ward, and 10-month-old son, Eddie Ward, Tuesday, applauding the effort to feed kids outside the school year.
Felix said she has known about the program the past two years and typically brings her extended family along to the park for bonding time. Her daughter is a second-grader at Fairlawn Elementary, one of two Santa Maria-Bonita School District schools that have 100 percent of kids on free or reduced lunches.
"It's like really important that you guys repeat it," Felix said. "Money's pretty tight right now. It gets us out of the house."
Felix's mother, Amalea Felix, echoed that sentiment.
"It's a good program for the community," Amalea Felix said. "Instead of playing video games."
https://santamariatimes.com/news/local/food-brings-families-to-the-park/article_a81cebc2-e11d-11e1-b449-001a4bcf887a.html